Buuuun, s-a mai dus un an, deci... bilanţ. Cum toată lumea ştie pe ce se duc banii mei - drumuri în străinătate şi concerte, să le luăm în ordine!
1. CĂLĂTORIILE
Anul acesta nu a fost foarte bogat în evenimente, dar nici nu ne putem plânge. Deloc-deloc. Am mai tras o fugă (două) prin lume, de am vizitat pentru prima dată
Polonia şi Germania şi am regăsit cu drag Cehia
şi, puţin mai târziu,
Istanbulul
, în aşa fel încât
my travel-map-so-far looks like that
!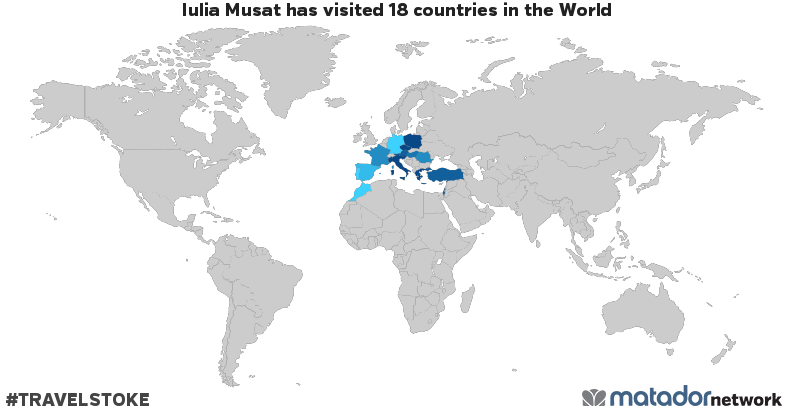 [Iulia Musat has been to:
Austria
,
Czech Republic
,
France
,
Germany
,
Gibraltar
,
Greece
,
Hungary
,
Israel
,
Italy
,
Monaco
,
Morocco
,
Palestinian Territory
,
Poland
,
Portugal
,
Romania
,
Spain
,
Turkey
,
Vatican
. Get your own travel map from
Matador Network
.]
Nu e rău pentru 6 ani de călătorii, iar pentru anul viitor pregătim două (cel puţin!) destinaţii noi.
2. CONCERTELE, SPECTACOLELE
În afară de asta, nu prea am avut vreme de altele, căci nu cred că am mai avut un an atât de solicitant - ştiu, pare că spun asta tot timpul, dar credeţi-mă... e
din ce în ce mai mare înghesuiala aici
. Totuşi, nu-l puteam rata pe
Goran Bregovic
în martie şi, mult mai târziu, pe
Armin van Buuren
- hăhăhăăăăă, tocmai în noiembrie. Au mai fost câteva
filme
, iar pe final de an mi-am scos pârleala -
teatru, balet, fado
. Evident, proiectele pentru anul viitor sunt, deja, mult mai numeroase - promit să fiu cu un ochi permanent pă vânzările de bilete.
3. MICILE PLĂCERI ALE VIEŢII
Noua secţiune a blogului, cu
parfumuri
- pentru că până acum, pur şi simplu, nu mi-am dat seama cât de mult îmi plac... nu păreau foarte importante - au devenit! Primul copăcel înflorit a venit
aici
, iar luna martie a fost în întregime cam
aşa
. Am fost la
nunta Laurei
şi am fost
la vot
, iar Crăciunul l-am petrecut, ca de obicei, de mai multe ori:
acasă
, apoi
la Galaţi
şi... dăcât atât. (Anul acesta, gândul meu a stat cuminte-n capul lui.) Am mai descoperit că elevii mei mă văd
aşa
, dar eu mă închipui
cum-nu-să-poa'-mai-faină
-
that's my prerogative.
4. REŢELELE DE SOCIALIZARE
Încă nu mi-am făcut curaj pentru alte trăsnăi - deşi m-am simţit bombardată din toate părţile, dar am sărbătorit
4 ani de Facebook
şi
5 ani de Twitter
. Iar Fb zice că anul meu 2014 arată
aşa
:)
5. LECŢIILE
OHOHOHOHOOOOOOOOO :)) În ultimul rând, învăţată
the hard way
, cea mai importantă lecţie din lume :
you are replaceable
. Şi pe sistemul "dacă mănânci de dimineaţă o broască râioasă, nimic mai rău nu ţi se mai poate întâmpla", totul a mers spre mai bine de-acolo. S-o luăm cronologic:
-
Accidente
stupide se întâmplă într-o bătaie de pleoapă. Nu sunt dedicate vreunei categorii, deci nu ocolesc pe nimeni (era s-o păţesc şi eu, chiar de curând).
Dar nici cu spaima-n sân nu se face să trăieşti.
- Am remarcat faptul că nu-mi plac şi nu ştiu să ţin
cure de slăbire
- deşi se cam simte nevoia. M-am chinuit o ţâră, dar m-am consolat rapid:
sunt absolut sigură că nu eram mai interesantă când aveam patruj' de kile
.
- Dacă rămân fără slujbă, pot oricând să mă fac
soldat
. Mă dau în vânt după tiroliană! Şi
mă gândesc serios să mă interesez de nişte cursuri de tir
.
- Cei
nevinovaţi
se duc la fel ca şi ticăloşii.
Lumea civilizată există
, totuşi. Tot aşa pleacă şi cei talentaţi (
Robin Williams
şi
Joe Cocker
), iar
eu chiar n-ar trebui să mai ratez niciunul
. Cât încă mai sunt vii.
- Iarna vine uneori toamna, şi o ţine tot
aşa
.
Dar, atunci când trebuie, iese soarele, şi "acasă" e locul unde-ţi ţii inima.